Exhibits
The Provincial Archives stages two to four exhibits per year. Some exhibits are curated by members of the PAA staff and others by individuals and organizations passionate about Alberta's history and heritage.
Current Exhibit:
Dried Out: Prohibition in Alberta
-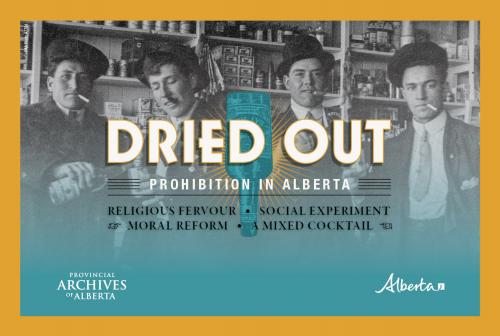 See our newest gallery exhibit Dried Out: Prohibition in Alberta on display at the Provincial Archives of Alberta until February 16, 2024. 
In 1915, Alberta embarked on a social experiment that would impact the lives of all Albertans: Prohibition.  A century after the repeal of prohibition in 1923, the Provincial Archives of Alberta is pleased to present Dried Out: Prohibition in Alberta. The exhibit explores how temperance, one of the great progressive crusades of the early 20th century, took root in Alberta.  The moral and political crusade to ban alcohol would have unintended consequences, both good and bad. It spurred the push for women's suffrage, lead to the creation of the Alberta Provincial Police, and prompted experiments in direct democracy. But it would also lead to people flouting the law at all levels of society, which would shape politics, policies, and communities for years to come.
Visit the Provincial Archives of Alberta during public hours to view this free exhibit curated referencing archival records in our collections.
Past Exhibits
Visit our Past Exhibits page to see previously curated work at the Provincial Archives.