Exhibits
The Provincial Archives stages two to four exhibits per year. Some exhibits are curated by members of the PAA staff and others by individuals and organizations passionate about Alberta's history and heritage.
Current Exhibit:
Prairie Royalty
-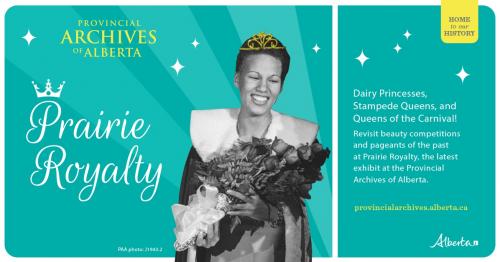 The Provincial Archives of Alberta is proud to present its newest gallery exhibit, Prairie Royalty. Dairy Princesses, Stampede Queens, and Queens of the Carnival – revisit beauty competitions and pageants of the past. The exhibit, featuring photographs selected from the holdings of the Archives, capture those times when – just for a moment – an everyday Albertan could become Prairie Royalty.
Free exhibit.
Past Exhibits
Visit our Past Exhibits page to see previously curated work at the Provincial Archives.